I am always on the lookout for great deals on things I want to own, or great deals in general. If you're open to discovering what's out there, there are great things to be found. From craigslist, to thrift stores, local buy nothing groups, sales circulars and coupons – I am always looking for ways to get stuff without having to pay full price. It really hurts to pay top dollar for something only to see it at half that price or even free the next week.
Last night I happened to click on Facebook marketplace and saw this mixer advertised for FREE – posted 38 minutes prior! I immediately messaged the seller to confirm it was indeed free, available and working. Yes to the first two questions and "its new" to the third. WHAT!!! Can't be. Then they said come now. So I check for other posts – not their first selling post, look them up on Instagram and Facebook – OK, solid profiles that have existed for years. So here I am at 10 pm driving half an hour across town (with a friend just in case this was something shady) to pick this thing up. I message to notify when I'm 5 minutes away, then again when I arrive. Nothing… we wait. 5 more minutes… we wait, nothing. Then finally a response, I'm coming down… Then, we wait. All the while thinking this must be a scam. So finally a door opens – next door – not at the same address I was given. I'm handed a black garbage bag with a heavy box in it. Now we're thinking that even if there are rocks in the box at least we didn't leave home and give up a coveted parking spot for a total scam. Or, at least there will be some laughs.
I get home and open the box – wowser! Brand spanking new Bosch mixer that was made somewhere between 1972 and 1986. Still in the original box with all the parts and manual. Jackpot! I'm in a few Facebook baking groups and I've seen people extol the virtues of the Bosch mixers – some they have owned for 30+ years. I cleaned it up, read the manual and then turned it on to be sure it was even working! Doh! I always do this – I wait until I have gone through the whole cleaning process to test things. Must do better. Thankfully my efforts were not fruitless. It's pretty and it works!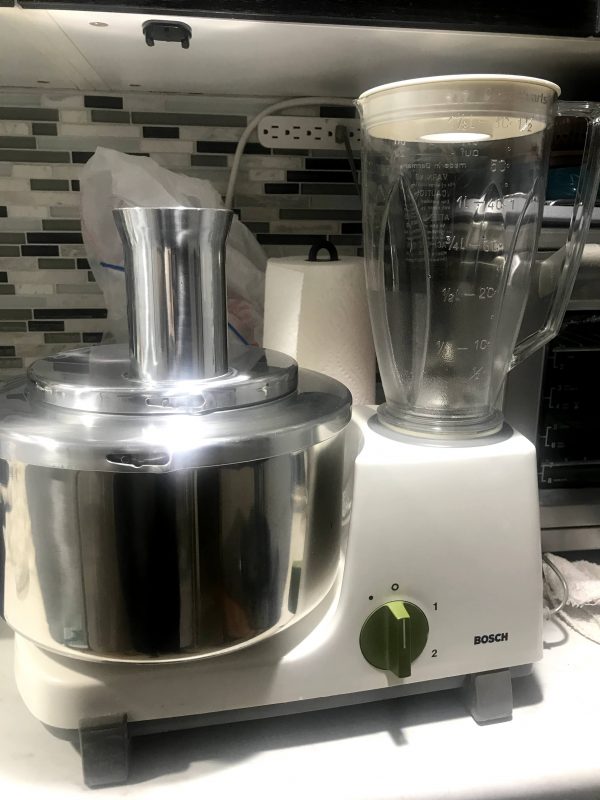 Now, the next question was what to make first? I decided on a simple recipe from King Arthur Flour for soft chocolate chip cookies since my friend/sidekick adventurer wanted cookies. I wasn't sure how it would turn out since this version only has a kneading arm and not the additional wire whip attachment. I'll be on the lookout for that. My next foray would be to try to make bread.
Here is a link to the history of the Bosch mixers – I'll be looking for more info and (fingers crossed) more parts! Happy Hunting.