I recently picked up a bag of pots that someone was getting rid of. Inside the bag was what I though was a metal trivet. After much searching I figured out that it was a pelmeni mold – also referred to as a Russian ravioli maker.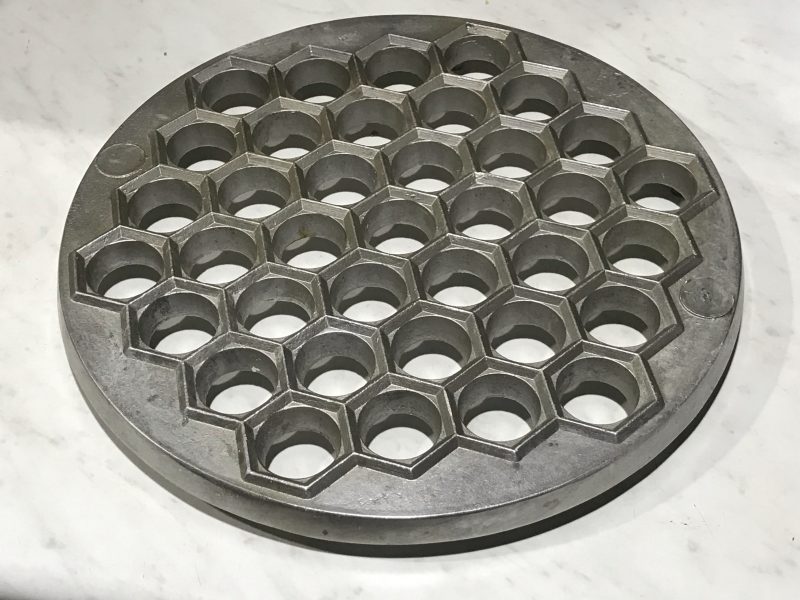 I've finally gotten around to making pelmeni for dinner and I'm sure I'll be making it again. I used my KitchenAid stand mixer to knead the dough and the KitchenAid grinder to mince the pork and beef. I strayed from the many recipes online and I cooked the meat before stuffing the dough in the mold. I didn't trust that the meat would cook when it was boiled. It's really nice being able to pick fresh herbs to cook with. I picked some sage from my garden and sautéd it in my Lodge cast iron pan with butter and garlic. Then, tossed in the boiled pelmeni. So very Yum!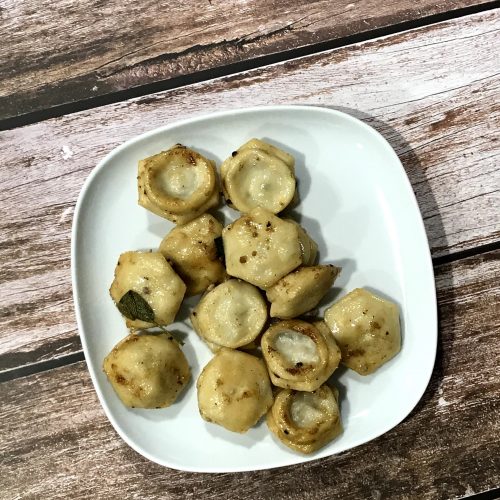 Pelmeni
Russian ravioli stuffed with ground beef and pork
Equipment
Pelmeni mold

Rolling Pin

KitchenAid stand mixer

Pastry brush

Skillet
Ingredients
Dough
350

g

All purpose or '00' flour

1

egg

158

g

water

6

g

salt
Filling
227

g

ground meat

(mix beef and pork)

salt

black pepper

garlic powder or fresh garlic

oregano

Green seasoning (optional)

homemade
Instructions
Make the dough
Attach dough hook to stand mixer

Add egg and water to the stand mixer then add the flour and salt

Turn to speed 2 for 8 to 10 mins to combine the ingredients into a soft but firm dough. Add extra water by tablespoons if necessary.

When dough is done kneading, refrigerate for at least half hour wrapped in plastic wrap
Prepare the filling
Add all ingredients to a bowl and stir to combine

Heat a skillet and cook the meat for 5 minutes

Remove from heat to cool for 15 minutes
Stuff the dough
Take the dough out of the fridge and divide the dough into four balls

Set aside two of the balls and place the other two back into the fridge

Use a rolling pin to flatten each ball into a circle big enough to fit the mold

Place one of the flattened dough circles unto the mold

Use 1/2 teaspoon to add the meat filling into each cavity of the mold, pressing in as you go.

Use water with a pastry brush to apply water where the pelmeni will seal

Place the second flattened dough circle on the mold

Use the rolling pin to press to two circle together on the mold until the edges of the mold cuts through the dough

Remove the individual pelmeni from the mold and place on floured surface or pan

Freeze for later use or boil immediately.
Notes
If you are grinding your own meat – it should be very cold but not frozen
A brown butter sage sauce is one way to saute the pelmeni after it is boiled
There is no need to cook the meat before stuffing the dough. It is simply my preference