After my apple picking trip and tasting the freshly baked biscuits with apple butter at the onsite BBQ food truck, I was inspired to make my own apple butter.
Earlier this year I decided to jump on the Instant Pot bandwagon and now I'm trying to find uses for it. Apple butter was a perfect reason to pull it out. I washed and cored almost 5 pounds of apples in a combination of Sun Crisps, Fuji and other apples. I was very happy that I did not have to peel them, since skins can stay on for apple butter. Note to self – time to buy an apple peeler/corer that attaches to the counter top or to my Kitchen Aid stand mixer. I then added the apples, sugars, cinnamon, and freshly grated nutmeg to the pot along with 1/4 cup of water and a tablespoon of freshly squeezed lemon juice. 15 minutes on high pressure then 15 minutes letting it sit and release the pressure (natural release).
The apples were fully cooked when I opened the pot so the next step was to puree and for this I used my immersion blender. Using an immersion blender for food that's in a pot is so much easier than transferring the food to a regular blender to puree especially when the food is still hot. The mixture was a bit too watery for me so I set the Instant Pot to sauté for 30 mins and then it was perfect.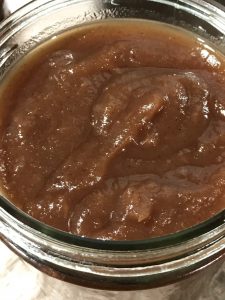 Now my dilemma is – what am I going to do with 3 jars of apple butter!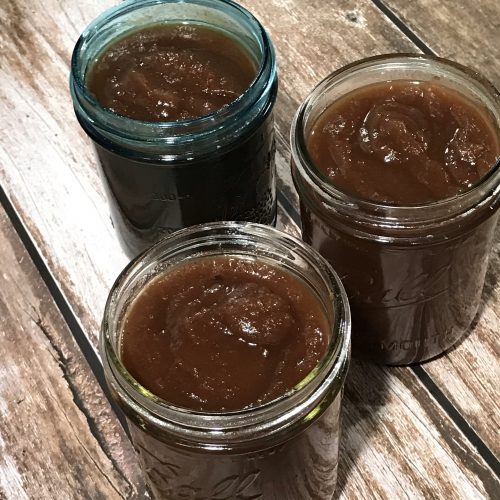 Apple Butter
Home made apple butter with a variety of apples
Equipment
Instant Pot

Immersion or standard Blender

Apple corer or Apple slicer/corer

Knife
Ingredients
5

lbs

Apples

Washed and cored

1/2

cup

Brown sugar

1/2

cup

Granulated sugar

1

tbsp

Cinnamon

1/2

tsp

nutmeg

1/4

cup

Water

1

tbsp

lemon juice
Instructions
Wash, core and cut apples

Add all ingredients to the pot in the order above then close and lock the lid

Set the instant pot to high pressure for 15 mins then let it natural release for 15 minutes

Use an immersion blender to puree the ingredients to the desired consistency. If you are using a stand along blender, wait for the apple to cool before adding to the blender jar.

If the apple butter is too watery, use the instant pot on saute mode for another 30 minutes with the cover off.

Spoon into jars and refrigerate. Apple butter can be refrigerated for 7 days or frozen for a year.
Notes
Using an apple slicer to create wedges makes the process easier
You can add more sugar if the apple butter is not sweet enough