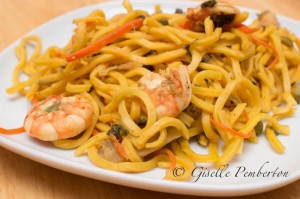 What do you do when someone gives you a pack of lo mein noodles? Cook it! I've never even tried to make lo mein before. I even try to avoid cooking shrimp because of my need to completely devein it, which takes me hours. I took care of deveining and seasoning the shrimp last night.
I've fallen in love with BirdsEye Steam Fresh vegetables. They are great to keep in the freezer and quick to prepare. I always keep a stock of corn, peas, broccoli and rice mixes ready to eat as is or add to recipes. For this recipe I used a pack of broccoli & cauliflower, spinach and green peas. I also julienned a carrot using my mandoline slicer and shredded a cabbage to go in the pot.
I started by boiling and straining the noodles, then setting aside. Using the same pot in which the noodles were boiled, I added sesame oil. When the oil got heated I added the carrots, cabbage, spinach, green peas, broccoli and cauliflower to saute. To this mixture seasonings were added along with low sodium soy sauce, red wine vinegar and a little teriyaki sauce. When the vegetables were done, the shrimp was added to the mix. As the shrimp started to cook, the noodles were re-added to the pot and tossed to finish.
Came out pretty good for a 1st try. Give it a try! I know what I'm having for lunch tomorrow.